Automotive Air Conditioner Recharging Steps, Tips and Strategies Overview
When it's 95 degrees on a July afternoon, the last thing you need is for your vehicle's air conditioning vents to blow warm air. Tiny amounts of refrigerant leak from your A/C system lines over time, and this eventually adds up to subpar cooling. With this step-by-step guide, you'll learn how to recharge your existing A/C system and restore great cooling performance.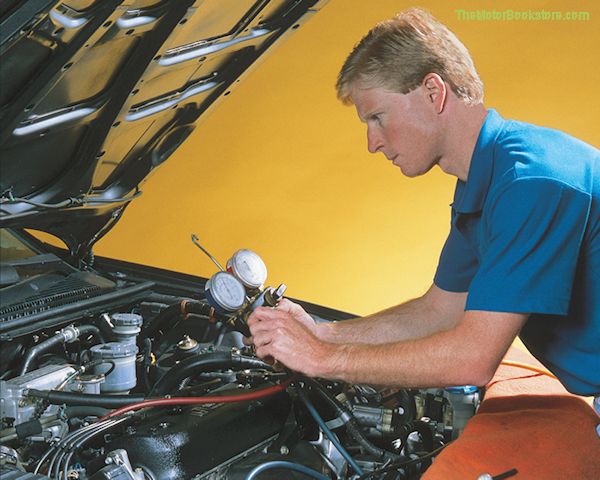 Source: Haynes 10425 – Automotive Heating & Air Conditioning Guide
WHAT YOU'LL NEED: 1-2 12 oz. cans of R-134a refrigerant (for vehicles 1994 and newer); one refrigerant dispenser with pressure gauge and trigger; one pair of goggles
After putting on the goggles, insert one can of refrigerant into the bottom of the dispenser and screw it in until tight.
Locate the fill port for the A/C system. This is usually on the left side of the engine bay, protruding from the firewall, and has a small plastic lid with an L printed on top. Remove the lid.
Attach the dispenser to the fill port. In rapid succession, grab the connector on the end of the hose; lift the outer sleeve of the connector; squeeze the dispenser trigger for two seconds (to purge air); press the connector firmly on the port; then release the outer sleeve, connector, and trigger in that order.
Verify your vehicle's A/C compressor is working. After starting the engine and turning the A/C fan to max, locate the pulley. If the center of the pulley isn't spinning, add half a can of R-134a; if it still isn't spinning, you'll need to bring the vehicle to a mechanic.
Locate the minimum and maximum pressure readings for the vehicle in your factory manual. Use the pressure gauge on the dispenser to get a current reading.
To recharge the system, squeeze the trigger for 5-10 seconds while slowly tipping and shaking the can. Wait 30 seconds for the pressure to equalize before check your reading again. Repeat as needed.
To change cans, turn the current can upside down, then hold the trigger for 30 seconds before releasing. Unscrew the empty can and screw on the new one.
Once your pressure reading is comfortably within the minimum/maximum range, disconnect the dispenser and re-cap the fill port.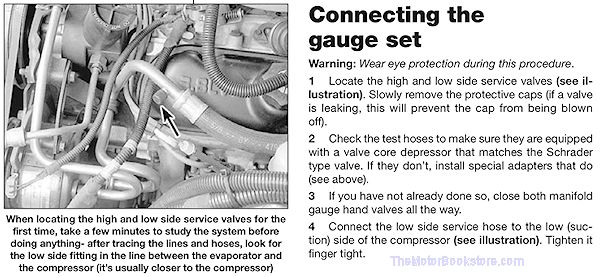 Copyright Haynes Manuals – Automotive Heating & Air Conditioning Guide (10425) Sample Page