Muscle Car Clocks Make Great Gifts for Muscle Car Collectors, Rebuilders and Enthusiasts
Muscle car clocks are for the lovers of the Chevy Chevelle, the Ford Torino and the AMC Javelin. Whether you own one of these beauties or spend your time dreaming you'll have one, I believe a clock that celebrates history's most masculine vehicles should always be just above eye level. A constant reminder of how beautiful life would be if we could stay on the road.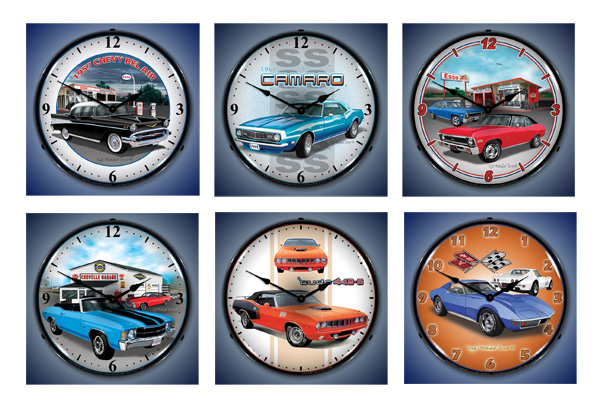 If I owned a muscle car about the only thing I'd give it up for is family. And that would be one heck of a struggle. I mean it. If a horde of flesh-devouring zombies were about to put their dirty hands on my dream car (a detailed 1969 Ford Mustang Boss 429), I'd stand my ground, flailing my arms like windmills. As the ghouls dragged me down, as they dug into my flesh, I'd go out pushing the crowd back from the Boss. My last words would probably be, "Get away from the hood scoop, you bastards!"
I have a few muscle car clocks. There's one in the man cave. (I call it a man cave. It's actually a walk-in closet the wife let me convert. I can get quite comfortable in there with at least one of my buds as long as no one turns left.) It's of the Chevy Nova, a car that always brings a tear to the eye. Rolled out in 1962, the car went through three generations, all of which are hailed for their engineering and performance. The clock has a blue and red model Nova sitting outside a nostalgic gas station. When I sit in Castle Bronco (the name of my man cave), I stare at that clock and picture myself roaring down I-95 not caring where I end up. Then the wife comes in looking for a pair of pumps and ruins the mood. (I never said it was a fully converted man cave.)

At the office, I keep muscle car clocks alive with a neon clock timepiece featuring the vintage GTO logo. It has bright neon lighting, a polished red bezel and the black checkered pattern every car and racing buff knows well. I actually had the privilege of being behind the wheel of a 1965 GTO 389 Tri-Power with a complete rebuild on the YS engine. The air conditioning unit had been converted to R-134A, blowing cold air like you were standing naked on a mountain in Aspen in February. That car was beautiful. Until we hit a hydrant. (I use the editorial "we" because "I" just makes me look bad. I do stand by my testimony that the hydrant moved. And the gorgeous girl grinning in my direction had nothing to do with the misdirection.) Still, that drive was the best two block trip of our life.
The last of the muscle car clocks in my life is, of course, hanging in the garage. It has a beautiful image of a first generation Monte Carlo with a backdrop of an iconic gas station from a simpler era. It's a very special timepiece as it was a birthday gift from the wife. I'd spent so much time talking her ear off about the Monte Carlo and its NASCAR history, when she saw that clock she got it right off. That's why I keep it in the garage. I spend so much time in there on the weekends, every time I look up for the time, I'm reminded why I need to cut the time short and get back inside the house.
There's a reason why I give out muscle car clocks as gifts. They've put a little pleasure and memory in my life. I hope to share that.