Who is Steve Magnante?  Why should someone trust his book, 1001 Muscle Car Facts?  Turns out, Steve is a complete gear head who is obsessed with the Detroit performance scene. He worked at Hot Rod Magazine as a Technical Editor, and then moved on to working for Barrett-Jackson Collector Car Auction. He is also a spokesperson for Dodge and the Dodge Scat Pack. Given his first love was a stack of faded "vintage" car magazines discovered in 1974, along with his impressive work experience, Mr. Magnante indeed has the knowledge and experience to author, Steve Magnate's 1001 Muscle Car Facts.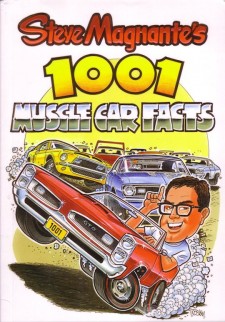 Above: 1001 Muscle Car Facts by Steve Magnante


This incredibly thick muscle car trivia book is divided into four parts: General Motors, Ford and Mercury, Chrysler, and then American Motors and Studebaker. Each chapter is broken into five parts like, Legend and Lore, Body and Interior, or Engine and Driveline. Each topic is helpful if you want to learn new muscle car trivia or test yourself on a subject you believe you're a master at.  The length of each fact varies from a few sentences to three paragraphs. Short or long, the facts read easily and you'll find yourself several pages deep before you even realize it.
Magnante found a way to provide muscle car trivia for a wide range of consumers. There is engine jargon for the gear heads, history for the know-it-all car buffs, and dispelling of rumors for the curious ones. Even though there are only a few pictures throughout the book, don't get the idea that this is another boring encyclopedia. The author was able to incorporate a little humor and sass into his writing, which is the exact opposite of your Grandpa's encyclopedia collection.
Did you know that Bill Mitchell, GM's design vice president, came up with the blue-to-white color fade of the XP-755 Corvette Mako Shark I concept car on an actual Mako shark he caught and had stuffed? Or that his idea caused enough frustration in the art department that the design team broke in to his office and repainted the shark so Mitchell would finally approve the coloring?  Talk about a fun piece of muscle car trivia to throw around at your next Corvette and Coffee meet up. Or if you wanted to literally demonstrate your new car knowledge, fact 56 gives you a tip on how to tell a Chevy 409 block apart from a 348 block. Magnante helps his readers become the most interesting people to kick tires with.
Whether you purchase this book for the garage workbench, the coffee table, under the Christmas tree or as a birthday gift, 1001 Muscle Car Facts will be a book you can reach for, crack open, and instantly devour. You can buy this great book here at The Motor Bookstore: (Steve Magnante's 1001 Muscle Car Facts ).
---
Alexandra Martin-Banzer is a content writer at TheMotorBookstore.com and a freelance writer. Known as a car girl, she is a true automotive enthusiast of both classics and new.
---