The Citroen SM (Sport Maserati) high performance coupe was manufactured in France between 1970-1975.  About 12,900 cars were manufactured and only 2000 of these were sold in the United States during 1972-1973.
We were so happy and shocked to see a 1972 Citroen SM at a local car show in early January 2014 that we just could not help but write about it – what a treat!.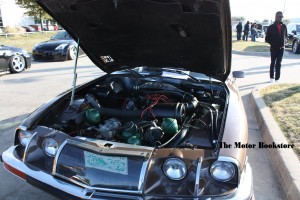 Above: Front view of a nice 1972 Citroen SM (Sport Maseratti)
The Citroen SM won its first competitive Motorsport event at the 1971 Rallye du Maroc.  It quickly became known for its technical innovations during the early 1970's.  In fact, some of its innovative features are just being introduced in some of today's cars, like hydropleumatic self-leveling suspension and self-leveling lights that swiveled with the steering wheel – cool.


The Citroen D Series beginning in 1955 introduced slippery aerodynamics into the design. In 1968, Citroen purchased Maserati and the goal was to combine the aerodynamics of the Citroen with the racing heritage of the Maserati V6, and the SM was the result. During its five years in production, variations of the Citroen SM served as ice racers, international rally cars and a presidential limousine. In the early 1970s, the Citroen SM was touted as the car of the future and was known as the fastest front-wheel drive on the market with independent speed tests reaching  145 mph (235 km/h).   In 1972, the Citroen SM won the 1972 Motor Trend Car of the Year award in the U.S.   In 2005, the Citroen SM's design placed eleventh on the "100 Coolest Cars" list published by Automobile Magazine.
The 1972 Citroen in the photos above and below sported the following component options:
V6 2.7 liter, 90 degree, quadcam Maserati motor – same one used in the Maserati Merak
Triple twin choke Weber carburetors: 42DCNF (fuel injected 1973)
3 speed Borg-Warner transmission (5 speed sold in most of the cars produced)
Front wheel drive; transaxle sits in front of the motor
3200 pounds with about 60% of the weight in the front
7 vane, 2200 psi central hydraulic pump supplies all systems
hydro-pneumatic suspension (nitrogen/mineral hydrous fluid)
adjustable ride height – 2.5 inches to 10.5 inches
4 wheel disk brakes; button instead of pedal; front, inboard
self-centering steering; 2 turns lock-to-lock
variable power assist steering for easy parking and firm at speed
hydraulic suspension raises tire to change a flat – cool
the European versions had headlights that turned with steering but in 1972 this feature was not legal in the United States
Here's a few photos of the 1972 Citroen SM (Sport Maserati) recently seen in early January 2014 at a local Dallas car show.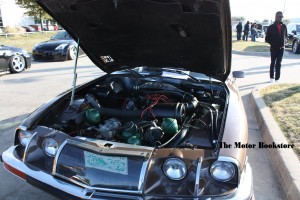 Above: Front view of a nice 1972 Citroen SM (Sport Maseratti)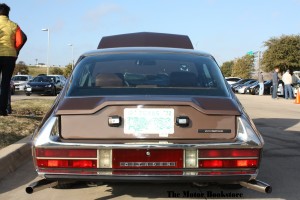 Above: Rear View of a nice 1972 Citroen SM (Sport Maserati)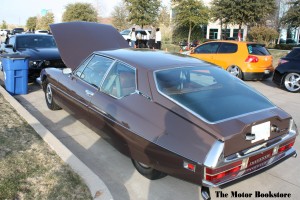 Above: Side view of a well cared for 1972 Citroen SM.
It was a real treat to view this engineering masterpiece up close.  I only wish I had the opportunity to take it for a spin…   If you are thinking about shopping for a repair manual or general automotive book about the Citroen SM at TheMotorBookstore.com, I will tell you that this is one of the few motor vehicles that we don't yet carry literature about. — Mike References: The owner of this fine car (do not remember his name)