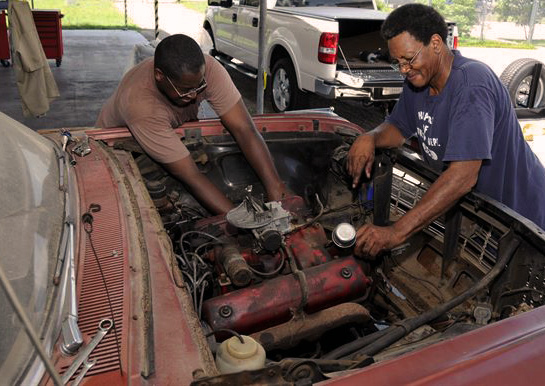 How to Learn Car Restoration
Car restoration is a leading passion among many vehicle enthusiasts – and is a booming industry in its own right. But how, exactly, does one learn the process of rebuilding an automobile? This guide from The Motor Bookstore offers a number of tips and places to look for information as you pursue your newest hobby.
Start small. Get a cheap-but-working clunker from a junkyard or auto auction that you can use to learn the basics – oil and filter changes, brake systems, etc. You'll gain a lot from working on your own vehicle, and if you do make any big mistakes, they at least won't be expensive ones.
Get help from – and help – your friends. You're sure to have at least one or two friends or family members in your circle who likes working on cars, and they usually have car-minded friends as well. Offer to help out on their next project, and consult them whether you run into a roadblock on your own project. Car enthusiasts are a tight-knit community, and they're almost always happy to share knowledge.
Read books. There are a number of automotive repair manuals available for vehicles of all types. Aftermarket DIY manuals such as Haynes, Bentley and Chilton Total Car Care are good for beginners, while factory OEM manuals get down to the nitty-gritty for advanced mechanics. If money is tight, check your local library for books and other resources.
Unleash the power of the World Wide Web. There are oodles of internet resources available for people interested in vehicle restoration. YouTube is loaded with how-to videos that can teach you about everything from engines to transmissions. Online vehicle forums and blogs also offer a wealth of information, including build threads, step-by-step guides and tips – often with pictures included. Just remember to use your discretion and disregard anything that's obviously wrong.
Take classes. If you're looking for formal training, many local vocational schools or community colleges offer inexpensive classes on various aspects of vehicle mechanics. Some schools, such as Lincoln Tech and McPherson College, even have degree and certificate programs that include extensive hands-on experience.