Camaro Interior Restoration Tips – First Generation
5 Things to Remember For Your 1st Gen Camaro Interior Restoration
Believe it or not, the Camaro was originally and quickly designed as competition to the Mustang and was the automaker's response to the Baby Boomer's personal coupe revolution. To everyone's surprise, the result was a revelation. A car classically proportioned and lean, muscular without being brash, with an European flavor but obvious American expression. No other car before — or since — has had quite the aesthetic as the first generation Camaro.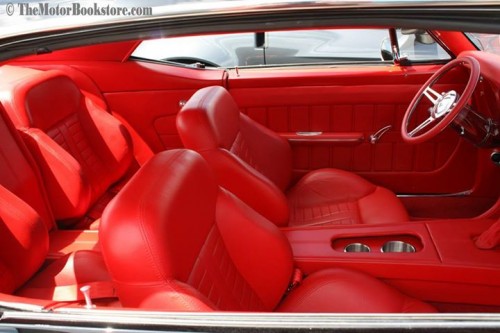 If you're one of the lucky few with keys to a first-gen Camaro, you're probably spending time keeping it classy, especially that cabin. From radios to sun visors and sport seats, you want that interior to shine.


There are two basic projects for the first-gen Camaro interior restoration. For the purist, there's the original restoration, which is the process of meticulously returning the cabin to the manufacturer designed state. And for the owner that likes to put a personalized spin on everything, you have the custom restoration. This can include everything from Cipa mirrors to Sirius radio. Whichever you choose, this is a project you want done right.
If you're in the midst of a Camaro interior restoration, looking at the possibility of performing one or just like pretending you might have the opportunity one day, here are five top tips for getting it right.
While upholstery can be found throughout the interior, many elements are molded plastic, vinyl or painted. Remember that cars are like houses. Interior and exterior paints are not the same. Do a little research on car paints because:

They can have different levels of gloss.
Gloss levels are important because areas on the dash need to combat glare while other surfaces may have slightly higher use of gloss to accent color.

Take a look at this photo below.. While the colors appear the same, trust that the reds are different to accommodate each specific surface.

Do you know what your hot rings are and how to use them? These instruments attach listing strips to an upholstery's underside. These tools leave that almost three-dimensional, tight look we love so much. Using them requires care because haphazard application can easily crush them. Familiarize yourself with these and other tools before putting them to use.
Before and during any process, take pictures. These will become handy, allowing you to track the disassemblies while ensuring reassemblies go smoothly. You should bag, group and label as you work as well. Between the pictures and organization, you minimize confusion and the possibility of wondering why you have those dreaded extra parts.
Take a look at a Camaro Interior Kit. If you're planning an original Camaro interior restoration, one of these is guaranteed to save you a lot of time. They include panels for doors and rear quarters, headliners, sun visors, carpets and seat covers engineered to match the 1967–1969 models. They come in standard, deluxe and Sport R options.
Take advantage of the resources you can find at Camaro Restoration & Service Guides – The Motor Bookstore. There's practical material regarding Camaro service and maintenance, restoration, overhauls and more. Every publication comes from a source respected for manuals written with both the novice and professional in mind.
With these tips and a good Camaro interior restoration guide on deck, rest assured your timeless car's interior will be as impressive as the engine's powerful performance.